Acting is life - Apply now
As an actor you release the full potential of any story – including the story of you. At Panorama Academy we see acting as part of your life skills, and as you invest yourself to grow professionally you build your craft.
Finding and taking your part is the key to success, regardless where you are, and then taking the relevant steps towards moving yourself into position for your next great role.
Panorama Academy is created for actors and artists with only one purpose: To find and strengthen your unique path, to help you keep growing, and to make you thoroughly understand the TV and Film industry.
The Acting Programs at Panorama Academy will unite your inner forces, make your output real, and sharpen your skills. The foundation of the academy is our educational three steps, one year developments towards finding your role and foothold in the business going from finding your basics, expanding your possibilities, and creating a difference.
As the vision of Lene Seested, the founder of the academy, you will find that every class is prepared with the intuition build from 25+ years of experience in pioneering new industry talents and standards, working closely with actor's careers, breakthroughs, strategies, personal growth, and challenges. We will share our know-how and insights into the industry, and in the process you will learn how to build a strong fundament and a long-lasting career as a wholesome person.
We provide the best teachers who work professionally in the industry, both nationally and internationally.
Apply now to be part of the new class in August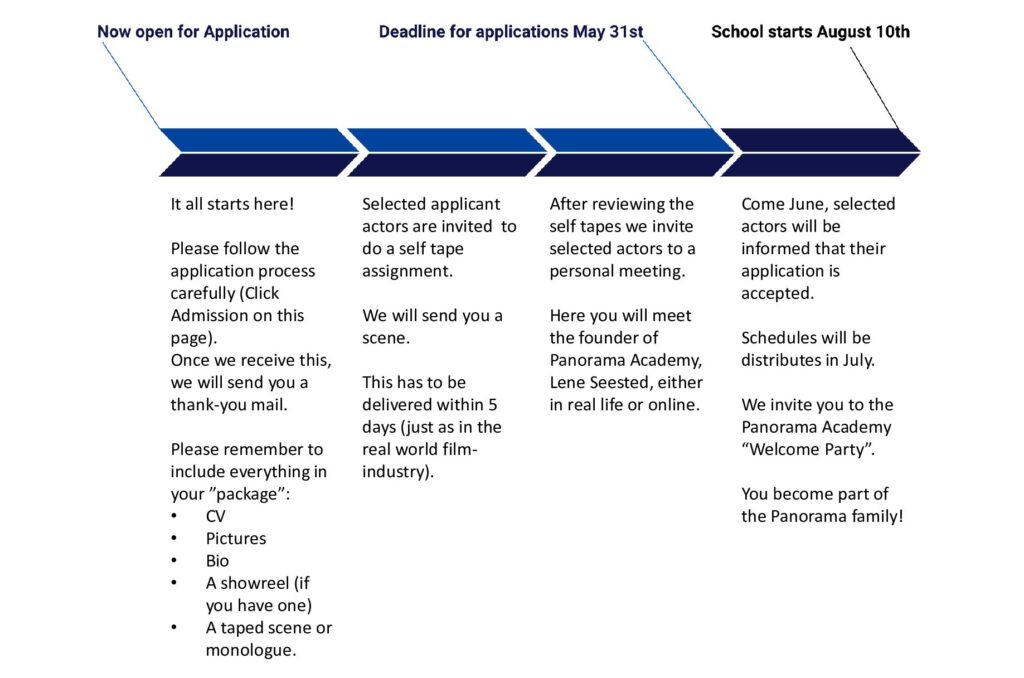 Become part of the program
We offer actor programs, workshops, and pop-ups with guest teachers aimed at actors and scriptwriters within the film and TV industry. You will find more information on the content of each program on these pages. Please feel free to explore!
At Panorama Academy every hour is created in a positive atmosphere and in an actors' environment in which you can feel free, thrive, grow, and dream – whilst pushing your talent towards new horizons.
Acting is giving and getting even more back in reply. Taking part, we expect you to invest your passion, dreams, and professionalism and show courage, discipline and focus. We have room for diversity. We provide studio training, we lead the way to a strong teamwork environment for all our students, and we believe in elevating each other instead of competing. Being an entrepreneur by heart, you will not only raise your own bar, but also the performance of your fellow actors.
Dreams do come true.
At Panorama Academy you will learn:
How to reach your highest potential.

How to improve your network.

How to make a breakthrough.

How to negotiate your salary and contract.

How to promote yourself.

How to work with social media.

How to make the best self-taping.

How to handle dialects and accents.
… and how to maintain a daily balance in your life and acting career, cultivating …
A positive mindset.

A positive motivation.

A great balance in your daily schedule, push and release.

The best version of yourself.

Belief in yourself – and how to build it.

Healthy habits – and how to grow them.
Founder of Panorama Academy, Lene Seested, greatest force is to always trust her intuition and inner drive. This had led her to build a unique set of skills of how to match actors to roles, create strategies to breakthroughs, and reach career goals together with actors. At the academy, the feeling and insight of Lene is everywhere, looking out for when and how to match your skills with opportunities in real life. 
Unique skills and big breakthroughs start here
At Panorama Academy, we are proud to be the first in Europe to offer 'The Ivana Chubbuck 12 Step Technique' 'The Power of the Actor'. Thought by our Accredited Teachers of 'The Chubbuck Technique'.
We offer Performance Coaching by teachers that are experts in mental health and personal leadership. We offer learning in Business Affairs with professional teachers who deal with the industry daily, making you understand contracts, negotiations, guild rules, and regulations in Scandinavia and internationally. We offer professional business-standard US voice coaching by teachers who teach UK and US accents and dialects to the stars and A-level actors from all over the world.
Building your successful career
Our unique Triangle Philosophy describes the holistic approach to education that is at the heart of all Panorama Academy activities. This philosophy combines the focus areas, we have identified as being the core of a successful career. Combined, they will strengthen any artist's daily life and development whilst boosting your career within the TV and film industry in Denmark, Scandinavia, and internationally.
The art is to grow both as a person and as an actor.
Art is to grow both as a person and as an actor.

As an Academy student, you have the opportunity to be educated, and along the way be spotted as 'talent', thus selected for representation in Panorama Agency's talent department 'New Generation'. And with effort, heart and professional work experience to finally be represented in Panorama Agency's management department on an equal footing with national and international stars.

Create strategies for breakthroughs  
Lene's force is to always trust her intuition and inner drive, which brought her to build a unique set of skills of how to match actors to roles, create strategies to breakthroughs, and reach career goals together with actors. And now the establishment of Panorama Academy.
Kristofer Hivju

; 'Game of Thrones 3-8', 'Fast & Furious 8', 'The Witcher', 'Beck' 

Caroline Henderson 'Vikings: Valhalla'

Sven Henriksen 'Annika 2'

Søren Bregendal ' Emily in Paris'
Synnøve Macody Lund 'Saw 10', 'Ragnarok'

Micki Stoltt 'The Last Kingdom' S5

Søren Pilmark 'Downsizing'
Alex Høgh Andersen

; 'Vikings 4-6'

Anders Danielsen Lie 'The Mother's Instinct'
Fredrik Malte Petersen 'The Grand Cloth'
Mads Sjøgaard Pettersen 'Eddie the Eagle'

Linnea Berthelsen

; 'Stanger Thing S2'

Mia Jexen

; 'Fortitude S1-3'

Tobias Santelmann

; 'The Last Kingdom S1-3', 'Hercules', 'Point Break'

Thure Lindhardt

; Spirit Award Nominated for his lead role in 'Keep the Lights On', 'Into the Wild'; 'Angles & Demons', 'Borgias'

Josefine Lindegård 'A Man Called Otto'
Anine Lindvig; TV2's mini TV series 'Håbet'
Ole Christoffer Ertvaag

; 'The Last Kingdom 1-2'

Julia Bache-Wiig

; 'The Last Kingdom 1-3'

Stine Fischer Christensen; 'Princess', 'After the Wedding', 'Wild Swans'
Molly Egelind; 'Fucking 14', 'The Bold Hairdresser'
Laura Christensen; 'Midsommer', 'Life Hits', 'At Night', 'Crying for Love', 'Mammon 3'
Neel Rønholt; 'At Night', 'Life Hits', 'Crying for Love', 'After the Wedding'
Sonja Richter; 'Open Hearts'
Sidse Babett Knudsen; 'The One and Only'
Panorama Academy believes that acting is more than one talent
Regardless of job titles and roles, all work in the creative film industry is all about one and the same thing: telling a good and moving story. However, how to do it and what part you have in it is on the way to becoming far more fluid than it has been so far  – the creative forces must unite.